5 Distinct Factors of Industrial Interior Design!
Bohemian may be the best way to describe Industrial Interior design. From exposed Brick work and electrical piping to a Grey – Black colour palette, everything about this style of designing is in contradiction to conventional Interior Design rules.
Begun as a way to renew and remodel old Warehouses and factories in the late 60's and 70's in the US and Western Europe, the elements of this style is still relevant and in vogue in today's time.
So what factors contribute to an Industrial style design?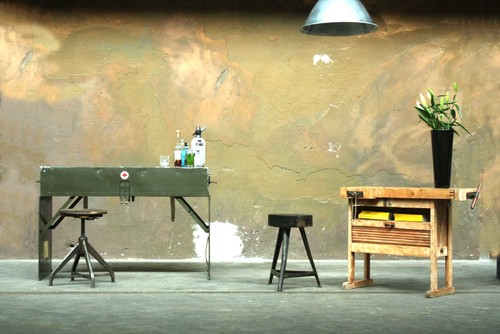 Large spaces with minimal space dividers and only essential furniture pieces are characteristic of this style to achieve an uncluttered look.
An Open pan is ideal for the space to be multifunctional.
High ceilings are ideal to create a spacious and roomy feel.
Storage units and furniture pieces double up as space dividers negating the use of permanent Architectural members like walls and partitions.
Huge windows are imperative to help flood the space with light.
·
"Unfinished" Surface Finishes
Construction materials in their raw form are used as surface finishes. These add to the textures and colour of the space.
Elements like Un-plastered Brick walls, exposed Wooden beams, Polished Concrete as flooring and counter tops, Rough hewn Stone and timber floors are distinctive to this style.
Metal and wood are dominant materials, be it partitions, doors or windows.
·
Exposed Service Elements
Be it Electrical pipes, Ducting for AC or Plumbing pipes, these components are best exposed to achieve this style.
An innate approach is to use plumbing pipes as stairway railings, part of furniture pieces or as partitions.
·
Minimalistic

Furniture Pieces and Accessories
Furniture units bereft of any sort of ornamentation in simple, but elegant designs are mandatory to achieve this signature look.
Rough finished Wood, Iron and Stainless steel are predominant materials used for furniture.
Rustic leather and Linens in simple patterns and coarse textures are ideal furnishing materials.
Lighting fixtures are essentially Metal lamps – iron or steel, exposed bulbs in lamp holders and Halogens lamps.
Accessories are limited to vintage pieces that are subdued in embellishment.
Grey, Black and Brown dominate an Industrial design colour palette. Materials like Concrete, Metal and Wood contribute to this palette.
White, earthy Greens and Reds, rustic Orange and at times pale Yellow may be used to provide relief, add softness and perk up the otherwise stark Interiors.
Accent colours are restricted to accessories like light fixtures, wall decor and potted plants and added very minimally.
With more such interesting topics coming your way in another fortnight, its bye from our end for now....